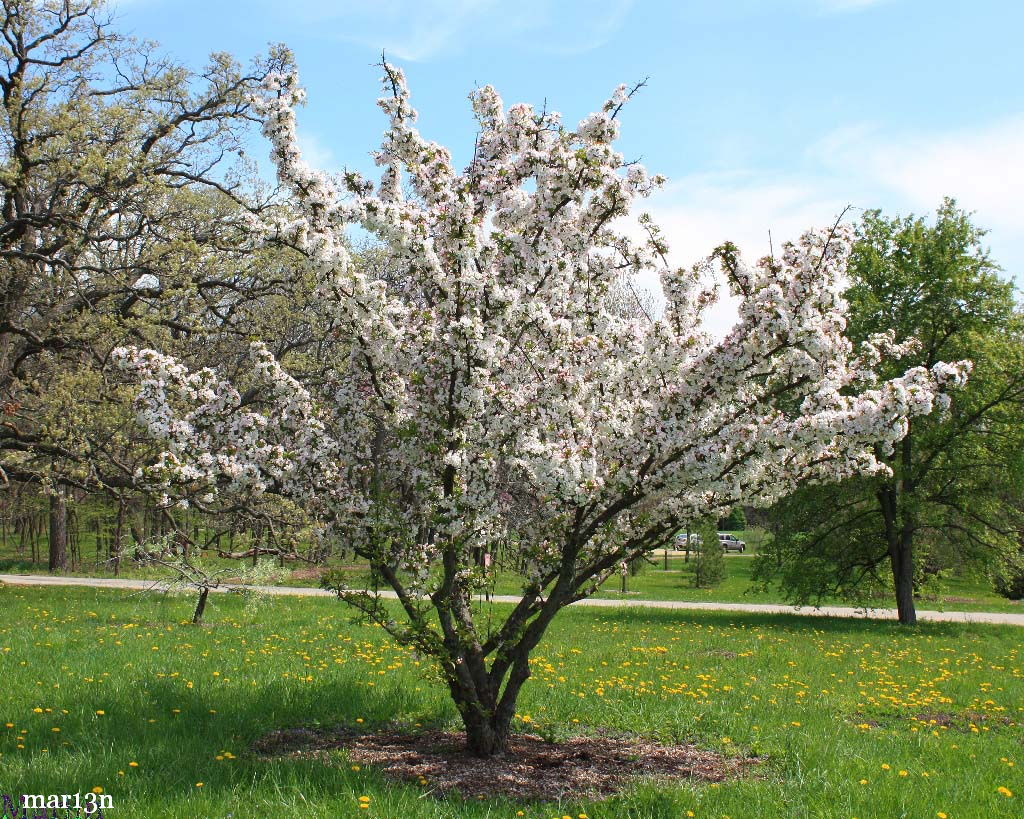 Tea Crabapple – Malus hupehensis, from a planting, is 23 years old [2]
One of the most stunning trees used in the Midwestern landscape is the crabapple. Most crabapples are small trees, making them an appropriate size for most home gardens, but their spring blooming is prolific and showy. They are exciting throughout the year, with craggy branches and persistent fruits in winter.
Crabapples (Malus) are the most stunning of spring flowering trees for Midwest landscapes and are a great choice for the home garden. Many of them are small in stature and can maintain visual interest throughout the changing seasons (spring flowers, fall fruit, textured bark and craggy branches in winter).
There are about 55 different species in the genus Malus, and there are innumerable cultivars available in the landscape trade. The Arboretum's Crabapple Collection was started in 1924. Part of this collection on the West Side participated in the National Crabapple Evaluation Program which evaluated new and disease-resistant varieties. As a result of the multi-year evaluation and additions, it has transformed into the West Side Malus collection which now contains 60 different kinds and over 140 specimens with highly desirable qualities.
Some of the specimens in this collection are almost large enough to be considered shade trees, while others are quite small. There is a great variety of shape as well, from wide to upright and narrow, weeping, and multi-stemmed. There is variety in flower color, ranging from white to pink, red, purple, and crimson. Some flower buds will be one color, and then open up to a completely different color! Fruits range in size from smaller than a pea, to nearly the size of most apples; they can be red, purple, orange, yellow, or green. Some of the smaller fruits persist on the tree throughout winter, providing a splash of color in the cold months. [1]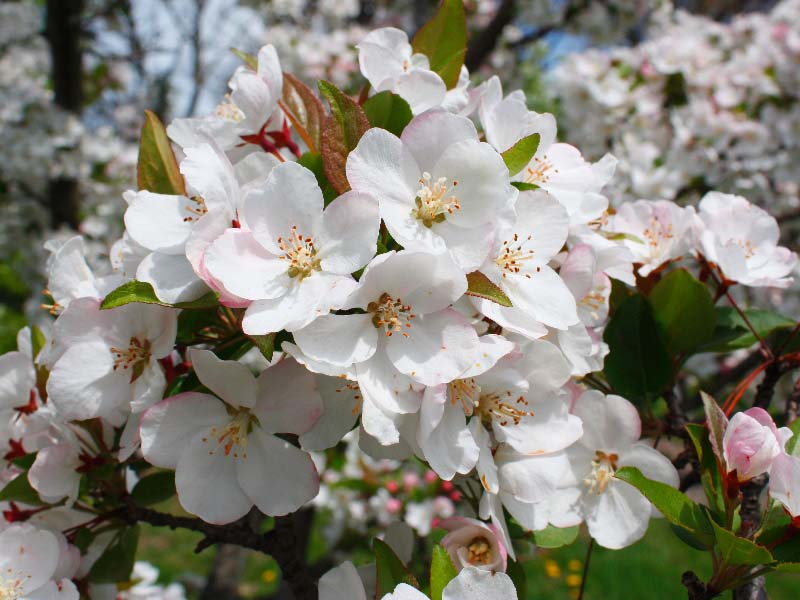 Tea Crabapple flowers are a spring highlight.
Crabapples are versatile, small, ornamental trees used in the urban landscape. Crabapples bloom in spring, usually in May, bearing flowers that vary a great deal in color, size, fragrance ,and visual appeal. It is common for flower buds to be red, opening to pink or white flowers. The fruit ripens between July and November, and varies in size from ¼ to 2 inches long or wide.

Crabapples thrive in full sun and grow best in well drained, slightly acidic soils (pH 5.5-6.5); however, they will grow well in many soil types. Most crabapple selections tolerate the cold winters and hot, dry summers prevalent in the Midwest. For many years, crabapple cultivars have been selected on the basis of their flowers, but with some cultivars, undesirable features, such as disease problems and early fruit drop, outweigh their short-lived spring beauty. No single cultivar can fulfill every landscaping need. Consider the following information when choosing a crabapple cultivar for your landscape. [3]